Welcome to Alexandria, Virginia!  Situated along the western bank of the Potomac River and only 7 miles to downtown Washington DC, Alexandria has both residential neighborhoods and urban streets filled with culture, history and nightlife.  According to trulia.com, Alexandria's housing market showed an increase of $30,000 (7%) in median home sales over the past year, and the public schools are rated above average (niche.com). All of this makes Alexandria a magnificent place to live!
Keep reading to explore a few of our most-admired Alexandria neighborhoods and be sure to click on the links to get more information on things to do and see.
Del Ray is a residential area with over 100 years of history. This charming neighborhood's motto is "Del Ray – Where Main Street Still Exists." You'll find a mix of American Foursquare homes, bungalows and even a few Victorians. You'll also find some townhomes and row houses scattered throughout. Fans of architecture will notice the Art Deco and Streamline Moderne buildings. Future development includes a new spray park and garden, as well as a multi-million-dollar tennis facility.
According to the Del Ray Citizens' Organization, the area was developed in 1894; a planned community, for employees of the U.S. government working in Washington DC.  Since the area was located near Potomac Yard & Railroad, it also became a convenient area for railroad workers and travelers.
Parks are plentiful and include the Eugene Simpson Stadium Park (offering fields & courts for team sports, a playground & dog park); Monticello Park (serene park with nature trail that runs along a stream known for its bird watching); and Goat Hill park (a fenced neighborhood playground, perfect for little ones).
Del Ray hosts a variety of community events, such as a the Del Ray Music Festival, the Taste of Del Ray, and the Art on the Avenue Festival; a multi-cultural arts festival with vendors, food and entertainment to celebrate the community's diversity through the arts. On Saturdays, year-round, from 8am to 12pm, the Del Ray Farmers' Market fills the Pat Miller Neighborhood Square.  Looking for some live music?  On the north side of Del Ray, follow the avenue to The Birchmere: America's Legendary Music Hall. Click here to see the calendar of all of Del Ray's events throughout the year.
Del Ray's main street, Mount Vernon Ave, is lined with quirky and fun independently owned
Shops and restaurants.  Swings Coffee and Junction Bakery & Bistro is a perfect spot for a little caffeine jolt or quick bite.  The Stomping Ground's fried chicken and biscuit breakfast sandwiches are among the best in the area. For ethnic flavors, don't miss Bombay Curry Company's Indian food or Taqueria el Poblano's authentic Mexican fare.  Neighborhood favorites include the Evening Star Cafe, Del Ray Pizzeria, and The Dairy Godmother's homemade custard.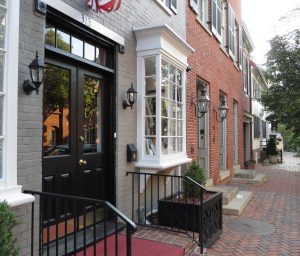 Lined with cobblestone tree-lined streets and colorful townhomes with brick sidewalks, Old Town transports you to a quaint colonial city where culture abounds. There are independently owned boutiques, restaurants, cafes, museums, historic sites and art galleries around every corner. Founded in 1749 as a thriving tobacco port, and officially established as a historic district in 1946, Robert E. Lee, George Washington once called this place home, to name just a few.
With its charm, transportation options and proximity to Washington DC, Old Town is one of the most desirable neighborhoods in Alexandria. According to zillow.com, the current average price of homes sold in 2017 was $929,500. You'll mostly find single-family row homes, in the heart of Old Town. Although luxury condos are becoming more popular on the outskirts, blending new with the old.
Old Town is a highly accessible neighborhood! Pick up the King Street or Braddock Road Metro, take the free trolley that runs down King Street to the waterfront, jump on a DASH bus, bike to work, or hop on a flight out of Reagan National Airport – just a few miles away.
Preservation is paramount to the future developments in Old Town.  However, despite the strict preservation standards, many projects are in the works, including a large-scale waterfront plan that will bring new housing, hotels, restaurants and more.
Parks are plentiful with over 900 acres of trails, green spaces, play grounds, dog parks, biking/walking trails and preserves.  Most popular are the Mount Vernon Trail, an 18-mile scenic trail along the Potomac River, and the Winkler Botanical Preserve. Visit Alexandria's website for a complete list here.
Old Town hosts hundreds of annual festivals, parades, art shows, historical reenactments and holiday celebrations each year. Click here for a list of some favorites, including the St. Patrick's Day Parade, the Friendship Firehouse Festival and seasonal Historic Home Tours.
Known for its independently owned and chef-driven restaurants, Old Town's culinary scene is a European tour.  Experience French, Italian, Irish, Mediterranean and American cuisine at one of the sidewalk cafes, upscale dining rooms or casual eateries.
West End
The West End is a suburban area of Alexandria, with a variety of housing options from single-family homes, row houses, townhomes, high-rise apartments and condos. One of Alexandria's largest and fastest-growing neighborhoods, the West End is only 8 miles from Washington DC, close to I-395 and home to the Mark Center for thousands of Department of Defense employees. According to zillow.com, the current average price of homes sold is $619,000.
By 1750, what is now known as the West End was an important agricultural goods processing center, easily exported through the Port of Alexandria. In 1795, planter John West subdivided a portion of his land and named it "West End" and development of the area began. Currently, the West End is developing quite quickly. Future plans include public schools, shopping malls, mixed-use sites, and more.
Parks are plentiful and include Cameron Run Regional Park, a 26 acre park with a waterpark, mini golf course and batting cages, The Holmes Run Trail for some quiet trail running, or Fort Ward Museum & Historic Site, a large park on a historic site from the Civil War.
Like any Alexandria neighborhood, the West End has its fair share of events and culture. Check out The West End Farmers Market in Ben Brenman Park, the Alexandria Symphony Orchestra, or the Port City Playhouse.
After you've spent your day exploring the West End, visit one of its popular restaurants. A few favorites include Rocklands Barbecue and Grilling Company serving classic smoked barbecue, Port City Brewing Company, Café Pizzaiolo for a quick oven-fired pizza, or Ramparts Tavern & Grill a local staple with casual dining.
Find out more about the West End by clicking here.
The community of Rose Hill that we know now was established in 1954. It derives its name from an 18th-century plantation once located nearby established by Daniel French on land that had been part of the Gunston Hall estate. It is now part of the Civil War Trails Program.
Rose Hill homes are primarily made up of medium to large single-family homes and townhomes built between 1940 and 1969. This is a well-established community with a median home price that sits around $570,000 and local public schools are rated A- and above, (niche.com). It is also very convenient to 495 and Old Town Alexandria.
There are so many things to do within a reasonable distance. It offers residents a sparse suburban feel with quite a few restaurants, coffee shops, and parks nearby. The Rose Hill Golf Club, Huntley Meadows Nature Preserve, and Great Waves Water Park are just a few of the outdoor activities offered.
All of these characteristics cause Rose Hill to continue to attract interest from buyers looking in the Alexandria area, especially families and young professionals.