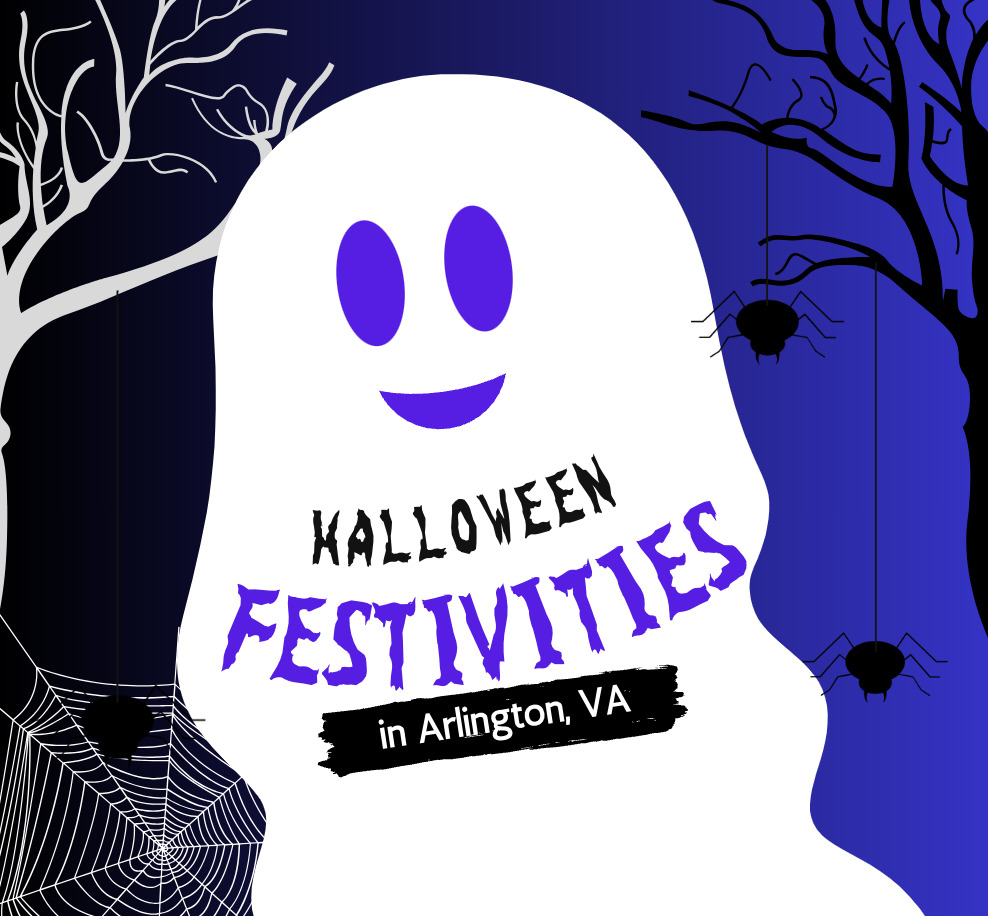 Looking for some frightful fun? There is plenty to do in Arlington County.
Virginia Ghosts Campfire: The whole family is invited to join on  Fri., Oct. 27 from 5-6 p.m. at the Fort C.F. Smith Park fire ring for lots of old-fashioned fun and of course, S'mores. $5 per person. Learn more and sign up.
Howl-o-ween: The Rosslyn BID and the Rosslyn Dog Owners Group (R-DOGS) are teaming up for a Halloween-themed evening of dog-friendly activities, treats, and fun at the Gateway Park Interim Dog Park on Friday, Oct. 27, from 3:30-5:30 p.m.
The Tell-Tale Heart at Synetic Theater: Sanity and madness blur on stage during a classic tale of suspense. The iconic, Edgar Allen Poe penned story, is playing at Synetic Theater now until Nov. 5. Note for parents, the play recommends guest be at least 13 years old.
Halloween Splash: Sample five aqua fitness classes on Fri., Oct. 27, from 8–11 a.m. at Long Bridge Aquatics and Fitness Center.
Spooktacular Costume Swap: Drop off gently used costumes at the Courthouse Arlington Library location during regular hours. Return on Saturday, Oct. 28 and discover a new one in time for Halloween.
Halloween Bark Party: Stop by the park next to Aurora Hills on Oct. 28 for an afternoon of fun for dogs, and dog lovers. You can expect treats, a dog photo booth, and a canine costume contest.
Nature Spooktacular: Join for a "Spooktacular" day of fun learning about nighttime animals and cultural festivities surrounding nature this time of the year on Sun., Oct. 29 from 3:30-5 p.m. and 5-6:30 p.m. at Long Branch Nature Center. Earlier time will be less spooky for families with young children. $7 per person. Learn more and sign up.
Poe Garden: A Literary Halloween Tradition: Join the Kenmore Middle School's Drama Club on Oct. 30 for an annual literary tradition in Glencarlyn's "haunted" garden, complete with readings of Edgar Allan Poe, festive decorations, refreshments in the Library.
Halloween Scavenger Hunt at Columbia Pike: Can you find the Halloween characters hidden around the library? Fun for kids of all ages on Halloween.
Fall Family Fun: Looking for alternative to Trick-or-Treating? Join the Library for an afternoon of family-friendly harvest-themed crafts and activities including pumpkin painting, candy corn hole, and more.