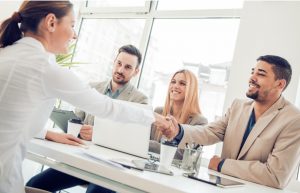 The Magnificent Manors Team of KW Metro Center wants you to know how much we appreciate you. We strive to build positive business relationships by working exclusively with people we admire and respect, and who value the service we provide.
RELATIONSHIPS ARE MORE IMPORTANT THAN TRANSACTIONS
You may have noticed that many real estate agents take a transactional approach to sales—identifying clients, closing the deal and them moving on to the next one. We choose not to work that way because we believe you deserve more from the real estate professionals you select. That's why we work by referral.
Since our primary source of new business is referrals from people who know and trust us, we don't have to commit time to door knocking or cold calling for new clients. We dedicate ourselves to the activities that benefit you most and always deliver exceptional service.
WE WORK TO EARN YOUR TRUST
We work hard to deliver extraordinary results and to earn your future referrals. Our legacy with each of our clients is 120% satisfaction at the end of our transaction together. We want you to be so excited about your experience with the Magnificent Manors Team that you can't wait to tell your friends and family about us and the exceptional service and results you received. When you come across an opportunity, we'd appreciate you referring us to great people like yourselves who would benefit from the personal attention and excellent results we deliver.
SERVICE THAT CONTINUES AFTER THE SALE
We devote ourselves to serving the needs of our client's before, during and after each real estate transaction. Instead of disappearing after the closing, you can expect us to keep in touch. We will send you valuable information and invite you to our events and parties. We will also call from time to time just to check in to see how you are doing and if we can do anything to help you with anything you need – not only real estate.
WORKING BY REFERRAL IS ALL ABOUT TRUST
We have found that when we're seeking a service, we look for someone we can trust who comes highly recommended with a proven track record of success. We're not alone. Ninety percent of consumers worldwide said they are most likely to trust the recommendations of the people they know, a figure that was well above any other form of advertising, according to recent market research conducted by The Neilson Company.
2016 Buffini & Company. All Rights Reserved. Used By Permission.