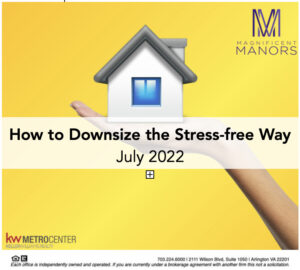 You've decided to downsize. Now what…?
Marybeth Fraser and her Magnificent Manors Team of KW Metro Center pride themselves on working with clients at all different stages of life and always meeting their unique real estate needs. Marybeth recently worked with Karen from Arlington, VA who wanted to "downsize" from her 3 bedroom, 2 bath single-family home with a yard to a more relaxing condominium community.
Using her wide network of specialists in the field, Marybeth helped Karen and her family develop a plan for selling their home quickly and finding the perfect new condominium. Marybeth referred a professional organizer to work with her to go through, organize and sell or give away items that had accumulated in the house. She also found a mortgage lender who agreed to work with Karen on the non-contingent house sale. Finally, as an Accredited Staging Professional®, Marybeth beautifully staged the house for sale, created marketing materials and campaigns designed to attract the demographic most likely to purchase the home. She used her Certified Luxury Home Marketing Specialist® techniques and sold the house within a week with multiple offers and above the list price.
Thinking about selling your house and downsizing in the Northern Virginia or Washington DC areas? We are available for a free consultation and expert review of your options. Contact me by phone, text, or email. 703-798-1803 | [email protected] | www.magnificentmanors.com
---
In her own words, Karen describes the process working with Marybeth and her team:
"Six years ago, the idea of owning my own single-family home in Arlington sounded appealing.  I'd grown up in the County and had always planned to put down roots there.  After working long hours at the office, I dreamed of returning to my backyard oasis where I could relax while sipping my favorite beverage.  However, I soon learned that spending every spare moment (or dollar) maintaining a 3BR home left me little time to enjoy it, and the dream faded.  The kids grew up, moved out, and the house began to feel more like a burden than a pleasure.  I realized I was losing precious time with loved ones to work on my house.  What to do?
I needed a plan. I knew I wanted to downsize to a friendly condominium community with options for socializing and recreating, but where?  And when?  If I was truly ready to kick-start my life, I needed the help of a trusted advisor and friend … someone who had my best interests at heart and would lead the charge.  That journey led me to Marybeth Fraser and the team at Magnificent Manors.
As a creative problem-solver, Marybeth reasoned that if we wanted to make an offer quickly, she would connect me with a professional organizer who could swiftly pack and sell or otherwise dispose of my many possessions. While several mortgage lenders I contacted were reluctant to assist with an offer based on non-contingent financing, Marybeth recommended a mortgage lender who gladly agreed to work with us; knowing full well my house might not sell within the 30 days required under the condo contract. Marybeth and her team committed to do everything in their power to sell my house as fast as possible.
To my disbelief, I was pre-approved for a 30-year fixed loan at a competitive rate and my house sold in less than a week – above list price! I attribute this success to Marybeth's uncanny ability to stage and showcase our house. Within one day of listing, Marybeth held a brokers' open attended by nearly 40 agents from the Northern Virginia area. That same week, Marybeth and her staff produced a stand-out MLS listing and brochure designed to attract the right buyers. The brochure included all major updates to the house and a list of local attractions and amenities.
Marybeth possesses all the important qualities needed to be a successful real estate broker. First, she is a self-motivated entrepreneur. She has an expressed desire to control her own professional destiny and an uncanny ability to ensure her clients to share that same sense of control and confidence. Second, she knows that honesty, integrity, and transparency are keys to maintaining a reputation beyond reproach. She has a strong work ethic and the tenacity to pursue every possible lead. Her love of homes and passion to serve others shines through every interaction. Third, Marybeth embodies attention to detail. She is attentive to her clients' needs, communicates well, and keeps her clients, managers, and other agents apprised of important changes. Fourth, she understands the local housing market and selects a pricing strategy that will generate top dollar for each client. She has a large network of contacts including other real estate agents and brokers, potential buyers and sellers, appraisers, home inspectors, and loan officers to assist her in accomplishing this goal. Lastly, she stays up-to-date on the latest topics in real estate to allow her to service her clients effectively.  She is a life-long doer and learner with boundless energy.
Coming from a family of real estate agents, I thought I'd seen the best in real estate … until I met Marybeth Fraser and the Magnificent Manors Team. I'd gladly and wholeheartedly recommend her to anyone seeking to buy or sell their home. You won't be disappointed!"
Copyright@2022. Fraser Consulting, Inc. All rights reserved.