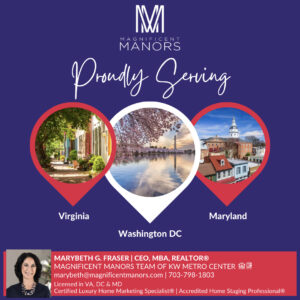 We are committed to understanding your unique needs and skillfully eliminate unnecessary costs and stress. Our every action is guided by your best interests, fostering positive relationships and delivering extraordinary results.
Whether you're in Virginia, Maryland, or Washington DC, our experienced agents are dedicated to working for you.
Contact me anytime for a complimentary home market analysis and a tailored plan to optimize your real estate goals. Let's start the conversation and make your real estate journey exceptional!
📧 [email protected] | 703-798-1803 | www.magnificentmanors.com