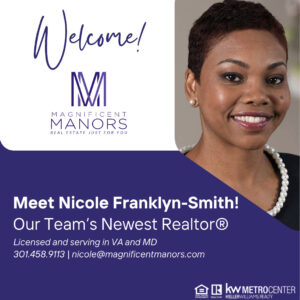 Exciting News! Join us in welcoming our newest real estate star, Nicole Frankly-Smith, to the Magnificent Manors Team! Nicole brings passion, expertise, and a commitment to helping you find the home of your dreams. 🗝️
Proudly serving VA and MD, our team is dedicated to turning your real estate aspirations into reality.
Get to know Nicole and the rest of our exceptional team here.
Welcome aboard, Nicole!